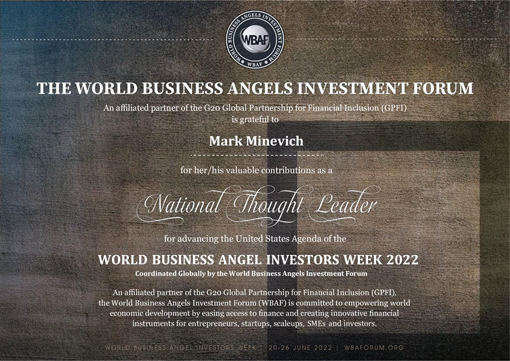 Certificate Of Appreciation:
World Business Angels Investment Forum
National Thought Leader for advancing United States agenda
Coordinated Globally by the World Business Angels Investment Forum
An affiliated partner of the #G20
Global Partnership for Financial Inclusion (#GPFI).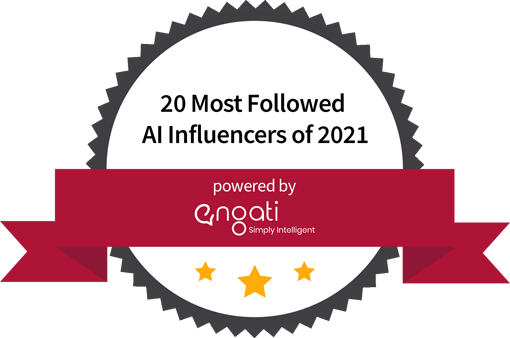 Top 20 Most Followed AI Influencers 2021
"Let us embrace AI for a better world!!!"
It's an honor to be featured on Engati's list of Most followed Al Influencers of 2021, alongside 19 other outstanding individuals!
With AI, the World is rapidly changing; it is the critical source of transformation, disruption, and competitive advantage in today's fast-changing economy.
Being a part of a community whose goal is to inspire, motivate, and help save our planet with innovation and technology – is what drives me every day. I believe that we truly have the power to change the world as long as we work together and have a common goal of doing, being, and becoming better.
Literary, so many gave up so much that I could get my spotlight. My amazing parents, grandparents, their parents, teachers, friends, mentors, and many, many others gave up part of their lives and sacrificed their dreams and hopes so I could carry their legacy and contributions. They gave me strength, confidence, and courage. Nowadays, I never have to lead alone, but thousands of people behind me carry their strength, voice, and life in me.
Learn more: –  https://www.engati.com/blog/top-20-ai-influencers-you-need-to-follow-in-2021
Other distinguished #AI Influencers in the list are: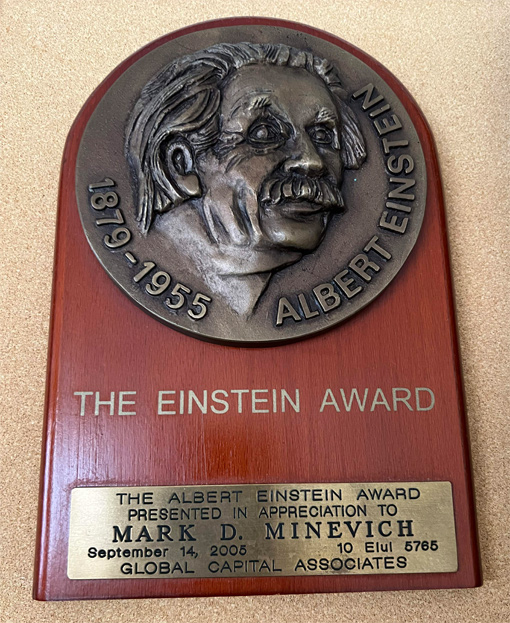 The Albert Einstein Award
"Everything that is really great and inspiring is created by the individual who can labor in freedom"

Albert Einstein
The Albert Einstein Award for Outstanding Achievement in the High Tech salutes path-breaking leaders whose vision and commitment have contributed to the critical advancement of emerging technology to the benefit of mankind. Albert Einstein said, "I want to know how G-d created this world…I want to know His thoughts, the rest are details." His uninhibited curiosity and ingeniousness led him to monumental achievements, like those receiving this tribute.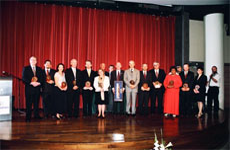 Fifty of the world's thought leaders in technology as well as leading CIO's and CTO's will gather for this "by invitation only" Mission to Israel. The Mission included:
Meetings with Israel's political leaders including Prime Minister Sharon, former Prime Minister Binyamin Netanyahu, and Nobel Laureate and former Prime Minister Shimon Peres.
A visit to Israel's Silicon Valley and personal interaction, keynote panels, and sector outlook roundtables between attendees, leading venture capitalists, and technology companies.
Participation in Ernst & Young Israel's Journeys Conference.
Exclusive touring of Israel including a trip to Masada.
A parallel touring program for spouses and children.
A special gala awards dinner where the Prime Minister of Israel has been invited to honor the 2005 technology award recipients.
A special high level meeting with the King of Jordan, His Royal Majesty King Abdullah, in the Royal Palace in Amman.
Past participants include President Ronald Reagan; President Mikhail Gorbachev; Henry Kissinger; Senators John Kerry, Ben Nelson, and Harry Reid; Former Homeland Security Secretary Tom Ridge and Governor Christine Whitman; Brian Halla – Chairman, President & CEO, National Semiconductor Corp.; Fred Frank – Vice Chairman, Lehman Brothers; Lennert J. Leader – President, AOL Ventures; Dr. Sergio Magistri – InVision Technologies, Inc.; Naveen Jain – Chairman & CEO, InfoSpace.com; Randall Kaplan – Founder & President, JUMP Investors and Co-Founder, Akamai Technologies Inc, among others.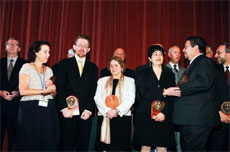 Hi Tech Innovation Mission to Israel Albert Einstein Award for Outstanding Achievement In Hi Tech Recipients
September, 2005.
Forbes Leaders to Watch in 2017
In 2017,  Mark was featured as one of the  "Leaders to Watch" by Forbes
Forbes announced their 2017 list of global leaders to watch, and Mark Minevich was recognized as one of their 15 leaders to watch.
Top Leaders in 2017:
Mark Minevich – Principal Founder of Going Global Ventures
David Rusenko – Cofounder & CEO of Weebly
Thanh Van Dang – Cofounder &  CEO of Savvycom
Anthony Smith – Founder and CEO of Insightly
Royce Disini – Founder of Mobcrush
Taso Du Val – CEO of Toptal
Marcus Tan – Founder of Carousell
Vijay Sharma – CEO of Belong.co
Armand Thiberge – Cofounder and CEO of SendinBlue
Shradha Agrawal – Cofounder of Outcome Health
Shaul Olmert – Cofounder and CEO of PlayBuzz
John Lemp – CEO of Revcontent
Chalmers Brown – CTO of Due
Damien Morin – Cofounder and CEO of Save
Sandeep Aggarwal – CEO of ShopClues and Droom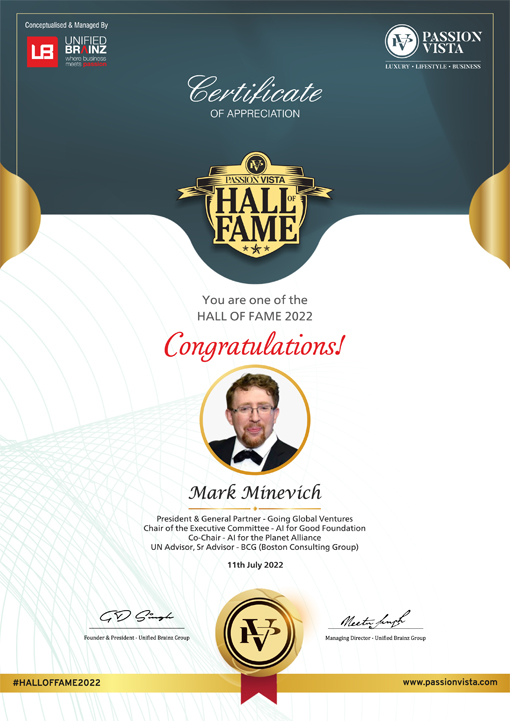 Mark Minevich was inducted into the Hall of Fame and featured in Passion Vista, the quarterly, hyper-lifestyle and business magazine, featuring the latest Global Voice of AI and Digital Transformation.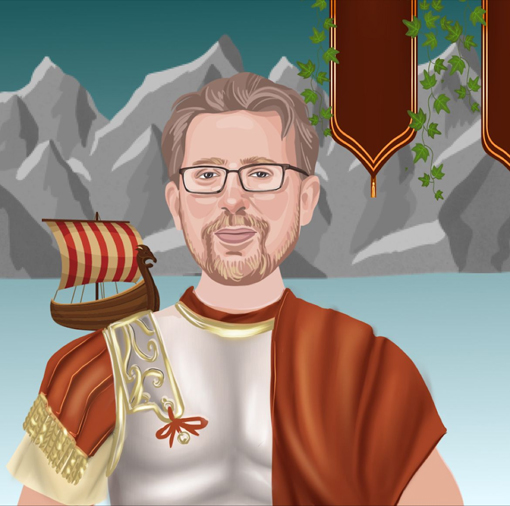 Mark Minevich was inducted into the Hall of Fame and featured in Passion Vista, the quarterly, hyper-lifestyle and business magazine, featuring the latest Global Voice of AI and Digital Transformation.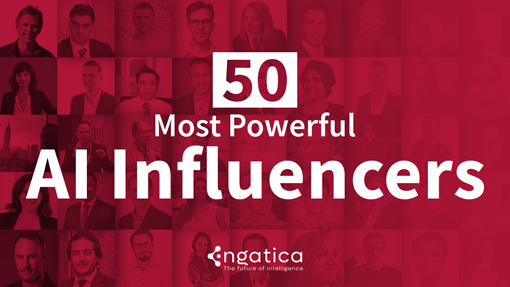 Mark Minevich was featured in a prestigious list of 50 Most Powerful AI Influencers, in Engatica Magazine, alongside other highlighted influencers, researchers & experts in AI, who are contributing to the AI space and guiding the next generation.